Become an Eco Partner – Offset your carbon & make a difference.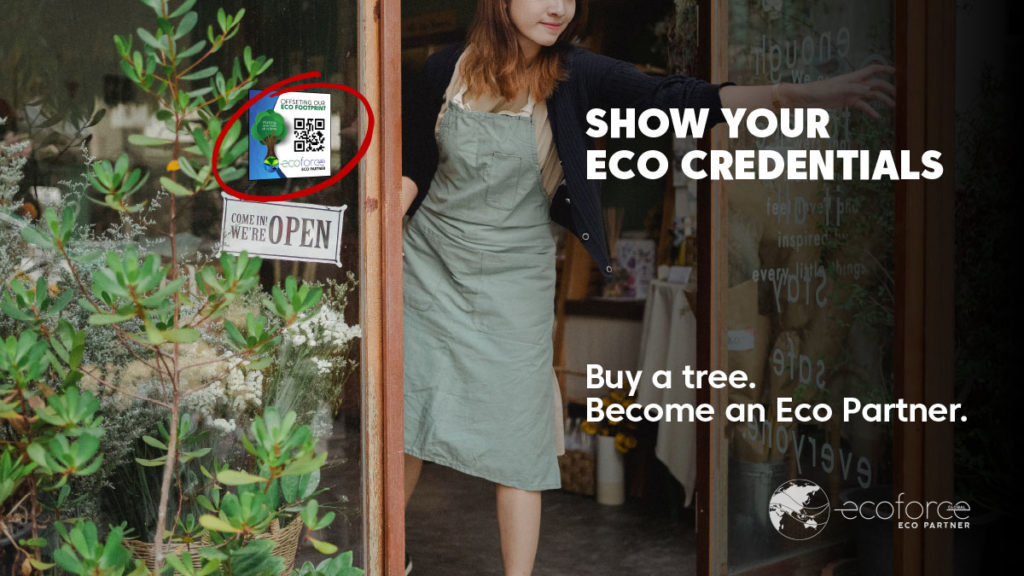 Businesses are successful when they care for their customers.  And customers do business with you when they know that you care.   The EcoForce Global Partnership Program shows that you care.
The population at large believes in Global Warming as do we at EcoForce. So much so in fact that we have established a worldwide organisation endorsed by the United Nations to start reversing the effects of global warming by planting 1 Billion trees in every country around the globe.
By joining our partnership program your company will be able to offset its carbon footprint and become recognized as a caring organisation that is standing up and doing something to fight this threat to our planet.
Just imagine offering carbon capturing trees to all your customers that would bear their name, would have a GPS code to locate their tree, and that they can monitor its growth over the years.  Each tree would also bear your logo providing you with positive recognition for years to come.
This is the most cost effective campaign that you will ever offer, so read on.
Business owners, this is your opportunity to join EcoForce Global Advocates around the world selling and planting trees to capture carbon from our atmosphere.
This simple commitment program to purchase trees through EcoForce Global supports our mission to plant billions of trees around the world on farmland to sequester carbon and help farmers store massive amounts of carbon in their soils. Each time you purchase a tree we'll update your businesses purchasing history and estimated captured carbon amount.
To get registered complete the form at the bottom of this page and include a tree purchase with your registration.
Retailer – Bricks and Mortar Opportunity
Once you've registered and purchased a tree, we'll supply you with a EcoPartner window sticker on your shop window.
We'll also supply you with a dedicated QR code you can share with your customers so they scan it and buy a tree which will be credited to your businesses carbon captured total. There are numerous ways you can engage with your customers and trees. Offer to commit a % or set amount per sale to trees if customers buy particular products or sign up for emails etc, there are plenty of options.
Online eTailers
For those of you who have websites or sell online, we'll provide you with a widget of webcode that will allow you to post your QR code and trees purchased and carbon captured details on your website. ( See image below) Customers can scan the QR code and buy a tree as well as view your current success rate of carbon captured. A great way to show credentials. Also just like bricks and mortar businesses you can also use trees to incentivise customers.
This is one effective way your business can contribute to repairing the planets eco system.
Shop window sticker
Eco Partners FAQ
Your webcode link will be sent within 24 hours to your purchasing email address and your sticker posted not long thereafter.
Yes it is possible once the trees have been allocated to a planting site for you to be involved with the planting. Our team will be in contact with you prior to the planting. Your trees unless you purchased over 500 in one time will be collated with other trees purchased to create a mass planting.
EcoForce chooses the trees that best suit the environment in which they are to be planted in consultation with biologists and ecologists and nature specialists. This means we capture the greatest amount of carbon and have the greatest rate of success.
All trees cost $84.70 AUD when purchased outright or just $7.70 AUD when purchased on a monthly plan over 12 months.
Each business can set its own purchase frequency. Business can engage their customers to buy through a link we'll issue you after you purchase your first three and become an Affiliate. The affiliate link will help you track customer engagement and can be used to promote your efforts.
There is no minimum but we recommend you purchase at least 3 to start with and become an affiliate. Doing so can help you purchase more trees later on at a reduced rate.