Corporate Tree Planting and Carbon Capture & ESG
Environmental, Social, and Corporate Governance is an evaluation of a firm's (or company's) collective conscientiousness for social and environmental factors. It is typically a score that is compiled from data collected surrounding specific metrics related to intangible assets within the enterprise.
Businesses around the world are being challenged on their commitments to the Environment, Social inclusion and the governance of their business. Are they meeting their own standards and well as the community's standards?
EcoForce Global provides companies with a unique opportunity that covers many of the requirements of best practice in the ESG field. Our program is actionable, transparent, sustainable and includes verifiable data.
Our program helps companies meet the ES component through the planting of trees to capture (drawdown) and store CO2 from the atmosphere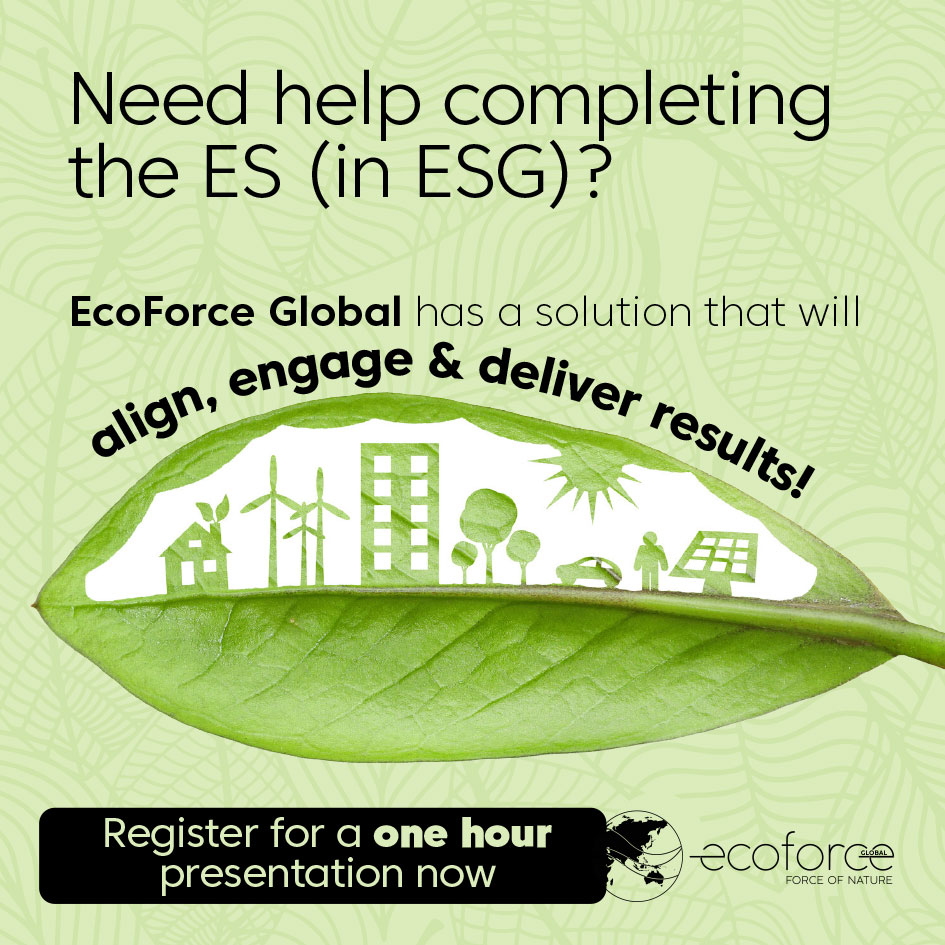 We do this through….
The supply of trees from local growers or the planting site maintaining provenance of species, selecting trees that meet soil and climate conditions, maximising growth and success.
The contracting of Landcare and like minded environmental groups to plant the trees. These funds are then used by these groups to achieve other important environmental work.
The measurement of soil carbon levels to create a baseline for carbon capture calculations.
The planting of trees on farm land, 50% of the worlds land is owned by farmers.
The monitoring of the trees each 6 months for 2 years through photographic and GPS tracking that  is then supplied to our customers ( including our corproate partners)
The education and training of farmers in Regenerative Agriculture farming methods instead of the continud use of chemicals and fertilisers. Farmers enter a contract with EcoForce to maintain and report on the trees and their adoption of these practices thus supporting the costs incurred in moving from current methods to Regenerative Agriculture methods.
TreeScore FAQ
Your company can use EcoForce Global's tree planting programs in any way to engage your staff and stakeholders. The transparency of the plantings, GPS co ordinates and photographs make a compelling story of your company's commitment to tree planting.
Where companies have multiple outlets, EcoForce Global will calculate the company's Star rating based upon the company's control of each site. If they fall under HQ control, then the target will be spread across the sub branches. If each site is a separate business with separate Directors or Management then each site can have its own star rating
Once a company has come on board and made a commitment, EcoForce Global corporate team will communicate directly with the business owners to establish credentials and a transparent path forward that allows the business to meet its objectives in a meaningful and positive way.The chosen star rating level will be validated against company revenue.
When companies register with EcoForce Global they are categorised based upon annual turnover.

Companies then make a commitment to contribute between 0.5% and 1.5% towards planting trees through EcoForce Global.

The levels and star ratings are calculated upon a company's annual revenue.


In an age of green washing and haze surrounding many companies true credentials and commitment to the environment, TreeScore is a simple, transparent, accountable way for companies to commit to environmental support.
Regenerative Agriculture principles include the…
Reduced soil disturbance through no-till agricultural practices.
Keep cover on the soil (green growing cover is most effective)
Keep living roots in the soil as much as possible.
Create as much diversity as possible.
Integrate animals into the system.
Upon the completion of the two year agreement, we supply a second soil carbon measurement to show increased carbon sequestration levels ( capture) to validate carbon tonnage to sell into world carbon credit markets
For every tree sold through EcoForce we also commit one to land repair from disasters around the world, bushfires, floods, droughts etc and we do this with internationally reecognised organisations.
We engage our customers in site visits to see their tree plantings and immerse them with updates directly from our farmers in the progress of their plantings.
Register through this form for a one on one contact and information about our next ESG presentations held online.