Advocate Rewards
Welcome to the most unique, financially rewarding and experiential rewards program in the world.
As an Advocate for EcoForce, we'll reward you financially for helping us achieve our objectives and we could also send you to some of the most environmentally sensational places to see our changing climate before they disappear.
Points Value
Our reward program is based upon a point structure. Because we are a global company with Advocates involved around the world we are dealing with many different currencies, exchange rates, as well as continually changing overheads and fluctuations. We therefore apply a point value to the base currency in each country enabling each advocate to receive the appropriate rewards in each country.
Point Values
1 Tree = 12 points
Each tree purchased over 12 monthly payments = 1 point per month
All promotional incentive programs are based on these point values (PV)
Getting Involved
How to become an EcoForce Advocate? Simply click here or on the "Join Now" link in the main menu above and register. Once registered you will have access to the Ecoforce Advocate area, our newsletters, podcasts and many other exciting promotional and support tools.
At this stage you may either decide to stay as a supporter of our mission or you may decide to become an active participant wishing to become involved with the planting of 1 BILLION trees around the globe. If that is the case then go ahead and register as an Advocate. If you wish to stay as an observer and buy a tree then click Buy Now and play your part in saving the world`
Rewards Program
Reward Value (RV) is the amount of reward per sale that is available for payment to Advocates for the sale of that product. 
 
A tree sold at $84.70 AUD has a RV of $36.67 which means we will only ever pay $36.67 from the sale of that product to our Advocates in total through all 8 levels. The personal sales Bonus of 30% is calculated at 30% of $36.67 = $11 AUD 
Yes you will only ever be paid be paid Advocate Rewards commissions on the sales generated by Advocates within your 8 levels. Levels beyond 8 will not be counted even if one level fails to generate revenue.
Once you have generated 30 Points worth of personal sales, you are entitled to earn commissions from any Advocate sales activity within your team through all 8 levels. (Refer to the Advocate Rewards Program and your EcoMastery Success Program: Flourish Module 3.2 Success System, from the Advocate Portal.) 
Yes, you can personally purchase any amount of trees per month. You can make the purchase in full or subscription pricing. 1 tree = 12 Points. (Refer to your EcoMastery Success Program: Flourish Module 3.2 Success System.) 
 
3 Trees a month paid in full = 36 Points per month. This would be 3 x $84.70 = $254.10 AUD. From this you would receive a $66.00 AUD rewards program payment, in addition to any tree sale activity within your organisation. 
 
30 Trees per month on a 12-month payment plan = 30 Points per month for 12 months. This would be 30 x $7.70 = $231.00 AUD. From this you would receive a $60.00 AUD rewards program payment per month, in addition to any tree sale activity within your organisation. 
Yes, share your Personal weblink that includes your personal EcoForce Account name. There are additional links you can share with others under the 'Tools' tab in your Advocate Portal. Here is your Personal Link:
https://www.ecoforceglobal.com/itstrtshere/?u=
1 tree = 12 points. 
Should you sell one tree paid for in full to a personally referred Customer, you will earn 12 points. This contributes towards your 30 points monthly requirement. Example: You sell 1 tree at $84.70 AUD, you will earn 12 Points. 
 
Should you sell one tree on a 12-month payment plan to a personally referred Customer, you will earn 1 point per tree per month for 12 months. Example: You sell 1 tree on a 12-month payment plan $7.70 AUD, you will earn 1 Point per month for 12 months. Sell 5 trees a month on subscription, you will earn 5 Points per month. 
 
You earn points from trees purchased personally, and from trees sold to personally referred customers, either in full or on payment plan. You do not earn points from tree purchases from your Advocates or their Customers. Points are accrued monthly. A minimum of 30 points is required monthly to benefit from any Advocate Rewards. (Refer to your EcoMastery Success Program: Flourish Module 3.2 Success System.) 
If selling trees to qualify for rewards, 3 trees paid in full by any personally referred customers will accrue the 30 points required to access any eligible rewards. Alternatively, 30 trees purchased by personally referred customer on a 12-month payment plan will accrue 30 points per month for the next 12 months for the Advocate to qualify for any eligible rewards. 
Advocates are required to generate a minimum of 30 Points worth of tree sales per month to receive all eligible rewards as per the Advocate Rewards Program. (Refer to your EcoMastery Success Program: Flourish Module 3.2 Success System.) 
EcoForce Global pays out Advocate Rewards payments on the 10th (or next business day should this fall on a weekend) of each month via direct deposit or paypal. To update your account details, go to My Account from the Advocate Dashboard. 
EcoGOLD FAQ
EcoForce will reward you the house and land combination at One Million AUD. If you wish to use the funds to buy a second house or holiday house the choice is yours. The house could also be purchased or built anywhere in the world. The prize value must be spent on one property.
Yes! All Advocates continue to be an Advocate for EcoForce Global forever and can access the rewards possible from the Advocate Rewards Program regardless should they enrol in the EcoGOLD program or not. Any Advocate you introduce who wants to earn the Million-Dollar House or other EcoGOLD Rewards, you will receive a commission per tree for every tree sold within your organisation to 8 levels of referrals.
Yes! We intend to run the EcoGOLD program indefinitely for all Advocates as a once in a lifetime offer and opportunity. The EcoGOLD program is not compulsory, however is only offered once. Every Advocate has 90 Days from their date of registration to prepare and save for the investment, should they choose to enrol in the EcoGOLD program.
All trees sold through your organisation from the date you register as an EcoForce Advocate accumulate towards your qualification for the EcoGOLD bonus levels.
We suggest that as soon as you can, line up the house and / or vehicle you are interested in. We suggest that you get pictures/brochures of each and add to your Dream Board (refer to your EcoMastery Success Program, Nourish Module 5.2 Your Goals and Dreams). We also suggest researching building times and car pre order requirements.
No rewards can be taken as cash and are not transferable.
Should an Advocate not reside in Australia, the reward will be converted from AUD to the Advocate's local currency.
To maintain eligibility for the EcoGOLD Program and access the Rewards, participating Advocates agree to attend each EcoGOLD monthly event. Exceptions may be granted due to hospitalisation or ill health, supported with appropriate medical certificates, and will be at the discretion of EcoForce Global. Participating Advocates are encouraged to focus on consistency and commit to participation.
No, you only qualify for the level you have attained for the duration of your EcoGOLD Program enrolment of 12 months. There is no pro rata towards the next level. However, all Advocates will continue to receive any eligible rewards from the Advocate Rewards Program that they have achieved which is ongoing.
No, this is a once in a lifetime opportunity. All EcoForce Global Advocates have a full 90 days from the date of the Advocate registration to decide if they would like to enrol and participate in the EcoGOLD Program. Should the Advocate not enrol in the EcoGOLD Program and their 90 day period has expired, this will not be offered again to the Advocate.
No, all EcoForce Global Advocates have 90 days from the date they register to decide if they would like to enrol in the one-time offer and participate in the EcoGOLD Program.
Yes, all Advocates who have enrolled in the EcoGOLD Program must continue to meet all Rewards Program requirements to receive any EcoGOLD Rewards.
Full Rewards Program in pdf
Eco Masters Events & Weekends
Our EcoForce Advocate Leaders enjoy some amazing rewards, special recognition and exclusive opportunities. These exclusive weekend events for Advocates include all expenses paid (travel to and from, accommodation and meals) access One of these are exclusive functions for leading Advocates who have reached senior levels within our rewards program as well as assisting in selling large volumes of trees, are all expenses paid ( travel to and from, accommodation and meals) corporate weekends and events.
These events allow leading Advocates the opportunity to learn first hand from scientists and climate specialists as well as leading Eco Leaders from around the world and business leaders how to share our mission further to be even more successful in their Advocacy roles..
These corporate recognition events will help build strength in our advocacy and help establish EcoForce as a leader in planet repair.
Eco Experiences
The ultimate level of recognition in the EcoForce Rewards program will be immersive experiences. There is nothing more powerful than seeing with ones own eyes the destruction of our beautiful environment, the destruction of the Amazon, the disappearance of glaciers, the creeping deserts, the islands being swallowed up by rising sea levels and more.
Each year EcoForce will take leading Advocates on all expenses paid trips to many of these wonders of the earth. Your trips will educate you about how the earth is changing and how EcoForce business is making a real difference and saving our planet.
The Great Barrier Reef
Venice
Glacier National Park
The Dead Sea
The Amazon
Yamal Peninsula Russia
The Maldives
Key West Florida
Alaska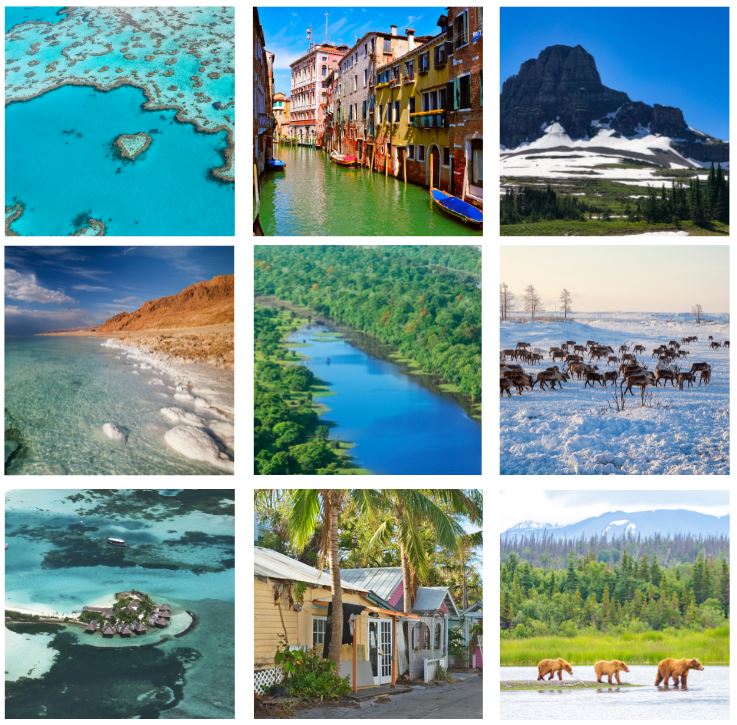 A Real Once in a lifetime Opportunity
Finally you've arrived here due to curiosity but maybe also with a desire for something more in your life, income wise or looking for a feeling of satisfaction and wanting to give back to our planet.
When we created this rewards program and business model, we wanted to work with passionate people, Advocates (people like you) and farmers who are passionate about the land and our food systems.
Our business focuses on people helping the planet by selling and planting trees. In addition,our leading Advocates support and help other Advocates to represent our mission and develop their incomes through the of tree sales. Instead of EcoForce paying for advertising to grow our business we do it through word of mouth referral, empowering people to share and mission and profit from it.
Join us as we change the world One Tree at a Time and be rewarded for your efforts. Find out more by registering for an upcoming webinar.
Register to become an Advocate for EcoForce and the planet today.
Potential Income Calculator
If you can help us sell trees and introduce other Advocates who do the same, well reward you accordingly. Throw in some numbers and see what you could earn. The calculation works on the basis that each Advocate buys trees, sells trees and introduces other Advocates to do the same.